Our latest guest is a survivor. His name is not Daniel, but he entered the lions' den and came out in one piece. On Monday, we welcomed Philip Banigbe (@pholer) to chat with us. He was kidnapped from his home two years ago. His book Abduction Chronicles is a detailed yet chilling account of everything that happened.
_________________
Syncity NG: Let's start from the beginning. I know it has been two years, but how do you feel? Are you okay? Surviving a kidnap is one thing but reliving the experience by writing about it is another. Why did you decide to write about it?
Philip Banigbe: Long story but as with all things, time is a healer. The physical wounds will heal and the emotional ones will also eventually heal. However, indeed it was a scary experience. I wrote the book for a few reasons: One, I was led to write it even before I knew how the event would pan out. Two, I wanted to share the story to make us know what really goes on when someone is kidnapped. Three, I was tired of retelling the stories. I'm fine really. Been fine since I got back from their den. I had closure, and I was able to all around me heal.
Some people thought I was healing by writing. I said, not really. I already healed before I wrote. It's an inhuman experience; a work of man's inhumanity to man. No one should ever have to experience it. I am sad for those who perpetuate it.
Syncity NG: You have become an anti-kidnapping crusader of sorts. Did you ever imagine that you would take on this role?
Philip Banigbe: No. Never. For starters, no one ever imagines being kidnapped. I was just minding my business and hoping that they would never see me or know my house. So no, I didn't think I would ever have to do this crusade. However, kidnapping had been coming close to me for years. My staff, their parents, friends, church associates, et cetera, were being kidnapped, but as Nigerians, it is always never our portion until it actually does become our portion. So I'd actually found myself speaking up earlier than when I was kidnapped. I spoke out about the decline in morality, the loss of humanity, and family units, societal norms, et cetera, all these are causative factors.
Syncity NG: I was just about to ask you that question but you beat me to it. People have this mentality of  "e no concern me until e happen to me".
Philip Banigbe: That is the problem with fighting these issues. As long as it has directly hit us, we are not really concerned. That is a lack of a sense of being in (and part of) a community.
Syncity NG: What are some of the things you have done to create awareness about this epidemic called kidnapping especially in Nigeria? Has any governmental institution listened to you?
Philip Banigbe: Good question. First, I didn't really bother about getting the Government's attention. I think it is futile. I concentrated on getting other people's attention. I think the Government has failed Nigerians, and waiting for govt is like waiting for Godot. As to what we have done, first I tried to focus on providing an online victim support forum (www.abductionchronicles/platform) to help survivors heal, find closure and live again. We then started finding a way to gather kidnap statistics as there is really no data.
However, we can't just deploy resources to helping those who have been kidnapped and traumatised. We have to find a way of ending this issue, [or at least] fighting it. So I started to use the book readings and speaking sessions as an advocacy tool. I tell people, "If we don't act as a community, we will all be picked off one after the other". The conversation has to start and has to be amplified. Smart people need to think solutions that will not make Nigerians extinct in their own country, so the more we talk about the problem, hopefully, the more we will start thinking of solutions. The walls are closing in on our civility and freedom. We need to fight that. Now, we can't travel to most places by road; we can't be out at night, we are now prisoners. We are afraid of everything and everyone. The band of criminals terrorising us is less than 1% of the population of this country, but we are giving them more space daily. I think we should encourage ourselves to build up our community and fight back intelligently.
_____________________
Editor's picks: Africans are yet to embrace the value of brand building
Do what works for you; everything else is white noise!
We need to give young people reasons to stay
_____________________
Syncity NG: It seemed that at some point, you began to feel 'pity' for your kidnappers. On page 235, you said, 'The people who kidnapped me were victimized by the government…their leaders…" It read like a Hanks Anuku and Rita Dominic film happily–ever-after kidnap cum love film. Why aren't you angry at these people who did all these terrible things to you?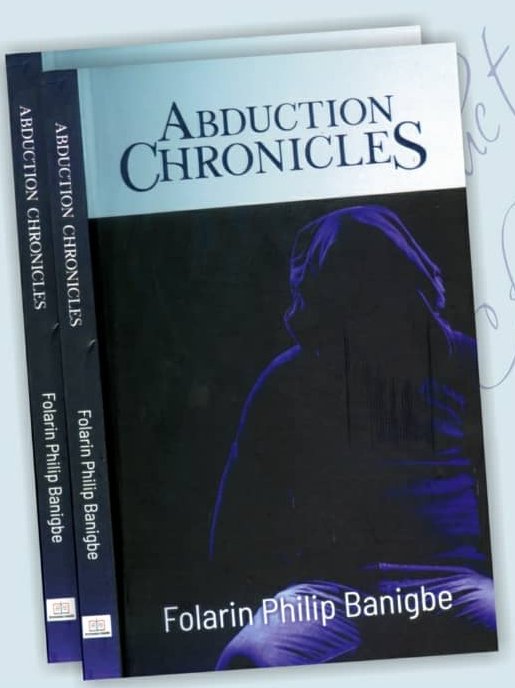 Philip Banigbe: People ask me that. I don't pity them. I just tried to get into their minds, and in trying to make sense of the whole thing, it occurred to me that we are victimised by the government, and terrorised by the bandits. However, a lot didn't turn to crime to fight back. I call it the rationalisation of criminality. We do the wrong things with good reasons (at least to our minds). The boys didn't think deeply of what they were doing, or if they did, they rationalised it with poverty, disadvantages, etc. Unfortunately, we all do that. We do it when we steal public funds, when we cheat our way into positions, when we do obvious wrongs. we rationalise it, but right is right and wrong is wrong. That is the tenet of society, and if we put it to entropy and choice, we will not have a society again. So, no, I was not pitying them. I just tried to see their perspective, and I challenged them that what they are doing is not the answer to the issue. With all our rationalisation, a kidnapper will hate for his own son to be kidnapped. So, if you can't take what you do to people, then it is wrong to do [these things] in the first place.
Syncity NG: The church played a huge role in your release especially your Pastor. I must commend him for keeping a clear head throughout the ordeal. And as for the police, I have no words for them. Take us through your healing process.
Philip Banigbe: Yeah, the church and the pastor, but again we are also close family friends. So sometimes, these things go beyond church associations. As to the police, well, I had about 2 chapters for them; to their defence, the police is a reflection of our society. The policeman is someone's dad, mum brother, sister of children. We are what our leaders are, and we are what our security people are. The police malaise is a microcosm of the society and a cross-section of all of our institutions. I said it in the book that it is only because the police are the closest to us, that is why we see a lot more of their evil. Look at the tax man, the 'NEPA' man, the soldier, the judicial officer, the WAEC examiner, etc… do you see a lot of difference? When a society loses it values and morals, the results can best be imagined.
A little more about the church; we all must live in communities and be responsible to them. The church is a community, as is the mosque, the home, the workplace, the neighbourhood associations…and if we are responsible to our communities, they will stand up for you too. We cannot draw out of a bank account we have not put anything in. We all must identify our communities and build them up, strengthen them so they can work for us someday. That is my advocacy really. Build our communities! Participate!
Syncity NG: Philip, your spirit of forgiveness is on fleek. I couldn't even read Abduction Chronicles without pausing and letting the anger dissipate. You have really forgiven these people o. Do you know if they were ever caught?
Philip Banigbe: Well, forgiveness is a tough one, however, if you read the book. I know why the event happened, and it was not directly orchestrated by the guys, so as much as I tried to hate them, I could not. That kinda made me know that I really am incapable of hating people. I may not like something someone does or all the things they are doing, but I don't know if I can hate them. I don't know if they ever got caught, really. Again, there are no statistics ― nothing to link the past to the present. However, if caught, they should be punished.
@mystiquesynn: Questions for Phillip: One, how can we get copies of this kidnapping tale as detailed in your book? Two, has your wife forgiven your kidnappers for disrupting her family? Three, did you at least drop copies of the book in a police station for them to read?
Philip Banigbe: Books can be found at most bookshops in Lagos, Abuja, Ibadan. Also on @pageandpalette @Rovingheights @OuidaBooks @BooksellersNG @TheBookDealerNG @theBookPeddlers @adamspagesabuja @AMABBooks @patabahbooks @laternabooks and a lot of places. Also online on Amazon, Kindle, and Okadabooks. Two, my wife has forgiven (hopefully). We learnt lessons from it and It grew our faith. For these, we are grateful also. Three, police station and books? Naah.
There are so many other stores I can't mention here at the moment, so it's all around you, hopefully, but if you can't find it, send me a tweet @pholer or to @abductionchrons. We will sort you out.
___________________________
Read juicy literary prose: Morpheus by Haku Jackson (fiction)
An Orijin a Day by Munukayumbwa (Mimi) Mwiya
___________________________
SyncityNG: What's the way forward for you @pholer? What does the future hold?
Phillip Banigbe: Life continues, unabated. Of course, after a near-death experience, you tend to re-evaluate life, have a keener perspective. Some people live differently, but I didn't have to; I just live more purposefully, more intentionally. I cherish everyday living now. I am also more expressive. I let my opinions come through; there is no time to be docile. I like a lot more, love a lot more. Just generally remember to ask every day, "why am I alive today?" That way I don't waste opportunities.
People asked me why I didn't run from Nigeria. I have never wanted to run. I had to leave my base at that time to heal the family, and as per instructions, but rather than run, I want to find a way to build a community of defenders who'll stay and fight for this place. We will then be able to sanitise our families, communities, societies, etc. We will be able to get the politicians (who are in the minority by the way) out of our lives and replace them with our reformed selves. I believe we can do it, but we must first agree to try.
On the good side, I now am writing more books. I have been a lazy writer in the past, but not anymore. I am also taking this conversation around the country on tours and speaking engagements. We can't want to save Nigeria by accident, it must be purposeful. We must be intentional about it. So I am doing my bit. I am not the smartest Nigerian, but if we all start embracing common values and eschewing inhumanity, the journey would have started.
Syncity NG: I'll tell you what; since you have moved on, I'll let go of my anger on your behalf as well. Thank you for having this discussion with us, but before we wrap up, please summarise the lessons we should learn from the book. Also, is there a kidnap hotline to help other victims?
Phillip Banigbe: Righteous anger is allowed; the one that makes you want a change so badly you can smell it. We need to be angry about the goings on to want to change it. We are much more than the evil that is surrounding us. Wrapping up; I have surmised that 3 things are required for us to move forward as a people:
1) We must embrace communal living
2) We must define societal right and wrong
3) We must rediscover our humanity
About the hotline, there is a lot of groundwork going on at the moment. We encourage you to follow the Abduction Chronicles' social media handles on Instagram, Twitter, Facebook, and the website. Info will be shared regularly.
Syncity NG: Thank you so much, Phillip, for joining us. Rest assured, the Syncity NG community has received your message loud and clear.
Philip Banigbe: Thank you @syncityng. Thank you all. Good night.
______________________
Enjoyed this interview? Be part of the show in realtime every Monday. Follow us @SyncityNG on Twitter and Instagram.