Our most recent guest on the #SyncityNGLLL show is a powerhouse in the literary space all by himself! For those who don't know, Okey Ndibe is the author of critically books Arrows of Rain, Foreign Gods, Inc. and Never Look An American In The Eye. Did you know that his bio is essay-length long?
Here goes: Okey Ndibe also earned MFA and PhD degrees from the University of Massachusetts at Amherst. Last year he was the Viebranz visiting Professor of fiction at St. Lawrence University in Canton, NY. He has also taught at other universities, including Brown University, Trinity College, Connecticut College in New London, CT, and the University of Lagos (as a Fulbright scholar). In 2015-2016, Ndibe was a Black Mountain Institute (BMI) fellow at the University of Nevada, Las Vegas.
Ndibe has served as an editorial writer for Hartford Courant, the oldest continuously published newspaper in the US, where one of his essays, Eyes To The Ground: The Perils of the Black Student, was chosen by the Association of Opinion Page Editors as the best opinion piece in an American newspaper in 2000, and another essay, Unwarranted Graphic Authentication, was named the 2001 best opinion piece by the Connecticut chapter of the Society of Professional Journalists). He is currently working on a novel titled Native Tongues.
Pheeeew! We had to cut that short or else we nor go go house today!
Okey Ndibe was with us on our Twitter page on Monday, and we talked about his writing, writing from hthe diaspora, and mentorship. As usual, we've compiled the transcript of our conversation for you to catch up on. Here we go!
Syncity NG: There is a certain nostalgia for Nigeria in your works. Do you have any confessions to make? Do you wish you never left the shores of Nigeria?
Okey Ndibe: I left Nigeria thirty years ago, but my heart's still there. That comes across in my literary production and journalism. But wish I never left? That puts it too strongly.
Syncity NG: So home for you is here and there but mostly there?
Okey Ndibe: James Baldwin said it best: You never leave home; you take your home with you. I am in constant communion with Nigeria on my travels.
Syncity NG: Well said. You know, I first encountered your writing in newspapers. How different is writing an opinion piece from a full length novel?
Okey Ndibe: There's an immediacy to writing opinion for a newspaper. A book—whether fiction or nonfiction—is a marathon, and demands a different kind of energy. But journalism teaches many useful skills to the fiction writer. Many novelists—Gabriel Garcia Marquez, Chinua Achebe, Cyprian Ekwensi, to name a few—started out in journalism. The profession cultivates economy of expression, and a sense of what's at stake.
"Writing is not sexy; it's arduous work!"
Syncity NG: I noticed that not a lot of older writers (Writers of the 90s and early 2000s) have mentees unlike those of the 70s and 80s. Have you tried to replicate yourself in a mentee and what are your thoughts on mentorship for writers?
Okey Ndibe: I believe in mentorship, no question! I was fortunate to be championed by Soyinka, Kofi Awoonor, John Edgar Wideman, Achebe, among others. I've done a fair amount of mentorship myself. The key is for an aspirant writer to be hungry. Apart from sheer hunger, aspirant writers ought to read and read and be open to revising their work. Writing is not sexy; it's arduous work!
Syncity NG: What problems would you say writers of this generation need to solve if they plan to get their works out to a larger audience?
Okey Ndibe: A writer of any generation must be prepared. You need to master the tools of any genre you wish to explore. You need to understand your subject. And a writer who doesn't read other writers is an impostor, trust me.
Syncity NG: There is no perfect writer but if you were to crown a writer as great, who would it be?
Okey Ndibe: Writers are great in different ways. Achebe's genius lay in the economy of his language; Toni Morrison in her alchemy of history and stories; Soyinka in his range and ethical acreage; Marquez in casting spells.
Syncity NG: Writers in Africa have been known to leave her shores for 'greener writing pastures abroad'. As someone who is also 'in the abroad', is there any hope for the writers left on the African continent? Can we 'blow' without leaving?

Okey Ndibe: Writing literally knows no bounds. If you're a truly talented writer in some obscure corner of the world, you have good odds of having your voice heard. I believe Tricia Nwaubani and Elnathan John—to take two examples—have written themselves into global attention.
@mystiquesynn: 1. What's your writing process like? 2. Do you write and seek out agents or do they seek you out? 3. How financially rewarding has writing been all these years? 4. Where can I buy your books?
Okey Ndibe: 1. I'm an opportunistic writer–no particular ritual; I write whenever and wherever I can–say in an aircraft, my library at home. 2. I've had three agents—I sought out two and one wooed me.  3. I get enough from writing to treat myself, friends and family to an occasional beer and goat meat. But I have often kept a day job (teaching). 4. My books are available via bookstores, on Amazon, Konga etc.
@dheegenius: I'll like your thought on the claim that most diaspora African writers become desensitized from the realities of continental Africans, leading to them writing stories that appeal more to foreign audiences, which enables them gain quicker international recognition.
Okey Ndibe: I never speak for other writers. For me, I try—in both subject matter and mode of writing—to keep faith with my experience of Nigeria, the US, and the world. I never prescribe what other writers should do. Or how.
@harchychy: Do you find your writing rewarding, especially financially?
Okey Ndibe: I'm not allergic to money. Still, the accumulation of riches is the least reason I write. I respond to a passion, a fever inside of me to use fiction to wrestle with difficult questions. It's marvelous some money comes from the activity.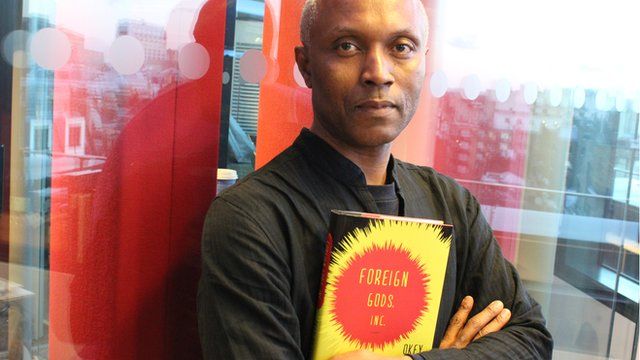 @thisdumebi: What is the place of space—mental and physical—in a writer's career? Is it a huge factor or just an excuse?
Okey Ndibe: I speak solely from my experience. I need a measure of tranquility, a quiet room of my own (to paraphrase Woolf) to do my best writing. Yet, on occasion, I've written during a party — as music and dancers swirled round me!
Syncity NG: Please give us tips on how to attract agents, publishers and the 'right people'. Your books were widely received! How do we replicate this success?
Okey Ndibe: The best tip: work your butt off! Agents and publishers and booksellers treasure a work that's well realized. So: hard work at every stage.
Syncity NG: Before we go, please talk about your books and some of the accolades they have brought you.
Okey Ndibe: I've published two novels—Arrows of Rain; Foreign Gods, Inc.—and a memoir, Never Look an American in the Eye. I've been fortunate to receive critical acclaim and find a sizable readership in many parts of the world.
Okey Ndibe: My advice to aspirant writers is simple: Dig in! Writing requires its own muscle. It demands stamina. Eschew the easy road. Don't settle for a mediocre draft when you can nourish a work to greater vibrancy—
@siosenbaum: but definitely hand in the mediocre draft on time.
Okey Ndibe: As a writer, you ought to know that there are no (good) shortcuts! Remember the three R's: Revise, Revise, Revise! Also cultivate a healthy appetite for reading; reading nourishes writing. Now, go ahead: write!
Syncity NG: Ladies and gentlemen, please give it up for Okey Ndibe! 👏👏 Thank you for joining us, Okey. And to our esteemed Synners, thank you for tonight.
Okey Ndibe: It's always enchanting to discuss literature with its passionate producers and consumers! Thanks, Syncity NG, for making books matter.
Join us @SyncityNG on Twitter for another enthralling conversation today, as we will be chatting with Chika Unigwe. Whoop!