Dead Dogs Don't Bark  is Akinyemi's latest poetry offering…
Hello Synners!
We had a chat with Tolu Akinyemi over the weekend and here's how it went down. Before then, check out the author's bio:
Tolu Akinyemi was born in Ado-Ekiti, Nigeria and currently lives in the United Kingdom. Tolu Akinyemi is an exceptional talent, out-of-the-box creative thinker, a change management agent and a leader par excellence. Tolu is a business analyst and financial crime consultant as well as a Certified Anti-Money Laundering Specialist (CAMS) with extensive experience working with leading Investment banks and Consultancy Firms.
Tolu is also a personal development and career coach and a prolific writer with more than 10 years' writing experience; he is a mentor to hundreds of young people. He worked as an Associate mentor in St Mary's School, Cheshunt and as an Inclusion Mentor in Barnwell School, Stevenage in the United Kingdom, helping students raise their aspirations, standards of performance and helping them cope with transitions from one educational stage to another.
Tolu has headlined and featured in various Open Slam, Poetry Slam, Spoken Word and Open Mic events in the United Kingdom. He also inspires large audiences through spoken word performances, he has appeared as a keynote speaker in major forums and events in the United Kingdom and facilitates creative writing masterclasses to all types of audiences.
In March 2018 he was endorsed by the Arts Council England as an 'Exceptional Talent'.
And now…for the interview!
Syn: Do give us a summary of your journey to writing
Tolu: I have been writing for over 10 years now, I started writing in my teens and I remember I have loved both the art of writing and reading. I believe to be a better writer, reading is quite important as it helps to broaden our knowledge base and open us up to a new way of thinking. I am that guy who will read every single page in a newspaper, history journal, and current affairs book in my growing up days. It has not been smooth sailing through the years, but the highlight of my writing journey was my recent endorsement by the Arts Council England as a writer with Exceptional Talent.
Syn: How difficult was it to navigate your day job and your passion (writing) at the same time?
Tolu: Initially it was quite challenging as my day job working within Financial Crime Compliance is fast paced however, I have learnt to be disciplined, and maintain a clear focus with my writing goals. Being focused has helped me to publish my books on the anticipated due dates and I think I have also learnt how to balance both my work and writing without any conflict of interests. I am passionate about my writing and day job and I devote so much attention to them both.
Syn: What prompted the decision to put so many poems in one book? There were over a hundred poems; 163 to be precise(I counted, lol!)
Tolu: Very fascinating to know you did a poem count, I love people with an eye for detail. At some point in my writing journey, I never knew I would ever be able to publish a voluminous poetry collection. At the point I wrote Dead Dogs Don't Bark, my creative juices kept flowing and I kept at it and my goal was to surpass the number of poems in Dead Lions Don't Roar and give readers value for money and I was able to achieve that effortlessly.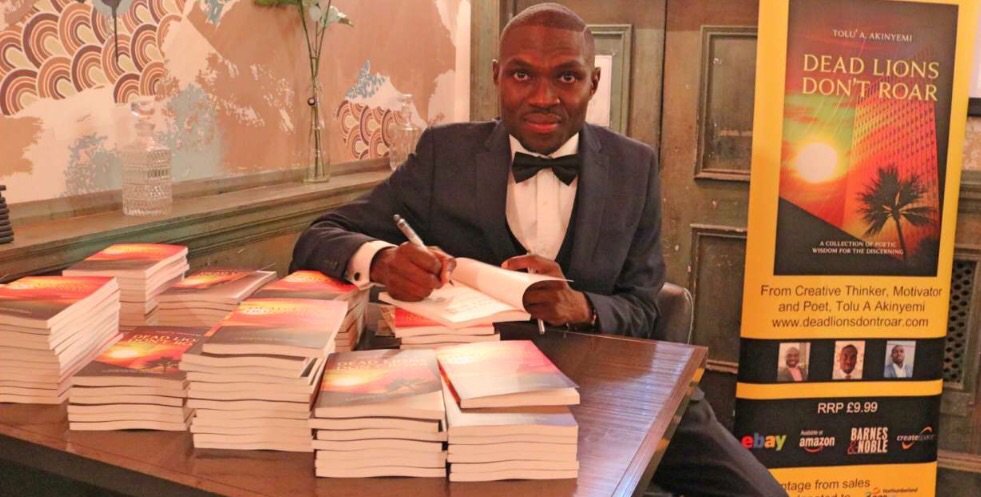 Syn: Your poetry is without the pretensions of ambiguity. Have you been accused of not "being deep or woke?" Was simplistic poetry a conscious decision when you started writing?
Tolu: I once asked for a review from a fellow author who owned a literary blog and I was bluntly told my book was not distinctive and engaging enough. I try my very best to make my poetry collection so easy to understand by all age groups without having to search google for the meaning of the words in there. Very recently I have received messages from kids as young as ten years old telling me they really loved my book and that really gladdens my heart that the generation next find it relatable and easy to understand. I have received messages of encouragement from far and wide from people who bought my books and love it, that shows that poetry shouldn't be all about complexity and ambiguity. I have read poetry collections where I needed to pause, and search google for word meanings. I am conscious about my choice of words and the messages my books convey.
Syn: How profitable has writing been for you and how do you navigate the waters of publishing and marketing?
Tolu: Writing has been very profitable for me in the number of lives I have been able to affect positively, I have sold thousands of books in the United Kingdom and I have used some of the profits from my books to support charitable causes. I also work with Creative/PR agents to further broaden my horizon and reach new audiences. I love writing as an art, but I always make sure my salesman hat is always on 24/7. I have self-published my Three books and I always try my best to invest into marketing my books as a well written book without good marketing efforts can easily be forgotten.
Syn:You have done poetry in both the Nigerian and British spaces. Can you tell us what your experience has been in both environments?
Tolu: I have performed on the same stage with Jess Green a big name on the UK poetry scene and it was so commendable to get good praise from her for my performances. I have also performed with so many international leading poets and the feedback has always been that my performances are unique and distinct and all I have received from the UK poetry scene has been love. I have headlined so many poetry gigs and it keeps getting better and better. I never really had the chance to perform spoken word poetry on the Nigerian scene before relocating abroad however, we are now one big family, supporting each other and I am very much looking forward to performing on the Nigerian poetry scene next year.
Syn: You have an interesting choice of book title. How was "Dead Dogs Don't Bark" conceived?
Tolu: Choosing Dead Dogs Don't Bark was easy picking for me as it was a follow up on my first poetry collection, Dead Lions Don't Roar. I am currently writing the third poetry collection in the series "Dead Cats Don't Meow" so the titles are all metaphorical with a clear and unique message, that we need to make our live count using our gifts while we can, as Dead Lions Don't Roar, Dead Dogs Don't Bark and Dead Cats Don't Meow, so before the curtains are drawn on our lives, we need to write that book, wax that album and put our gift and talent to positive use.
Syn: What is the message you hope to pass with this poetry collection?
Tolu: I hope my poetry collection inspires people to find their unique roar, bark and spark and challenge readers to do more and not settle for mediocrity.
Syn: Why should anyone buy your books when they walk into a bookstore?
Tolu: The message is clear from my books, my books infuse wisdom like a teabag infused in boiling water and propel readers to achieve their full potentials. So, if you need a relatable book to read, that is easy to understand with no superfluous innuendos then my books will do the trick.
Syn: How can we purchase your books?
Tolu: My books are available to order on Amazon, Barnes and Noble, eBay, Waterstones, my website www.tolutoludo.com and are available in Nigeria at Roving Heights, Patabah Books, Buboox and on the Okada Books App.
Syn: Any last words?
Tolu: I am always happy to support good causes and Arts competitions within the literary space both home and abroad. I enjoy mentoring others and providing support and guidance in the fulfillment of their dreams. A big thank you to Chief Synner; many thanks for the engaging interview and thanks for the great work you are doing on the literary space.
Dead Dogs Don't Bark is the second poetry collection from the acclaimed author, Tolu' A. Akinyemi. With a similar tone and style to Dead Lions Don't Roar (Tolu's first poetry collection) this follow up masterpiece is nothing short of pure motivation. The poems cover a range of topics that many in life are aware of, that the Author himself has experienced and that we all, whatever our age, need support in. Beautifully written, the poems speak volumes to all age groups as they feature finding your inner talent, celebrating your individuality and distinct voice. The poetry collection has didactic elements for evaporating the effects of peer pressure and criminality amongst many others. Also covering mental health, relationships, career focus, and general life issues, the poetry is bitter sweet, amusing and thought provoking in turns. This collection is poetic, soul-stirring and yet accessible and will appeal to fans of poetry that speak to the heart and social causes.
Join the author as he tours other blogs during the course of the week. Do SHARE AND JOIN THE CONVERSATION!